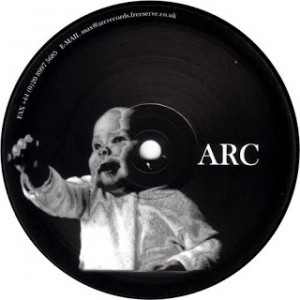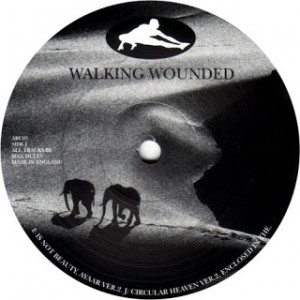 The next in the series was originally released on ARC as ARC03 in September 2000, and is titled "Walking Wounded", a phrase I heard in a news report. I liked the way the two words went together.
The track kicks off with "Is Not Beauty", which is an abstract piece recorded in November 1998. I wouldn't call this a noise track, but it does have some noise elements in it (although in recent years I've listened to a fair bit of noise, back then I don't think I was even aware that such a genre of music existed). I think that it's my favourite track on the release.
As is the case with ARC02 ("This Weak Flesh") I think the techno tracks on this release are not my best and have perhaps dated more than others. The second track, "Ayaar ver.2", is in that category. As the title suggests, it's the second version of a previously recorded track. Or perhaps it just used the same sample, I don't remember. With the percussion and vocal samples, it has a vibe influenced by the prevalence of those sounds in techno at the time (it was recorded in May 2000). In retrospect I'd prefer to have kept that sort of thing off of my ARCart releases, keeping it for the MIST material that came out on Cosmic Records. This is the track I like least on the record. Typically though, it was the most popular track with other people.
"Circular Heaven ver.2" is another track made from significant parts of another, earlier track. The original version was recorded some time between 1996-1998. This version was made a day or two before the record was cut, and I remember feeling a sense of urgency about getting a track finished that would fit onto the record. ARCart releases were compiled of tracks that were made across quite a few years. The age didn't matter, it was more important that the tracks seemed good enough and that they fit together to create a cohesive release. This recording allowed me to take something that I really liked from a track which wasn't quite up to standard, and beef it up into something simpler, with more impact. I love the vocal sample; It comes from a pop song, reversed and put through some chorus, or flange, or both.
The final track, "Enclosed In The", was recorded in November 1998. It appears immediately before "Is Not Beauty" on the original DAT, so may have been recorded any time from a few minutes to a few weeks prior to that track. When I recorded a retrospective mix of my own tracks in 2008, I came across this track with some confusion, as I barely remembered it at all. I think it's made up of some drum machine and synth loops which I sampled and then looped, adding some snare and hi-hat from the TR-606, and an additional sample put through filters quite randomly without any manual control after the breakdown, which I think contains an odd number of beats.
Files are in lossless FLAC format, compressed from WAV files taken from the original DAT recordings.
download lossless FLAC version of Walking Wounded
Please get in touch if you have any problems downloading, unzipping, or playing the files.